by Jamilah Samian
My family and I went to New Zealand for 14 days from 23/5/08 till 6/6/08. We clocked in more than 2,900 km, stayed in a campervan, roamed the beaches, cities, towns, gorges and farms in the North and South. What an adventure! These notes are kept brief and straight to the point on purpose and are for your benefit if you plan to do a similar trip in future.
PreDeparture
To make the trip more fun and meaningful, everyone was assigned special tasks. Ahmad Fakhri – Overall Program Manager; Me – Food Coordinator; Alia (age: 17) – Financial & Medical Coordinator; Safi (14) – Journey Coordinator; Syarif (12) – Prayer Schedule & Gadget Coordinator; Siraj (9) – Airport & Weather Coordinator.
Day 1
Touchdown: Outside Auckland Airport
Clockwise from left: Syarif, me, Safi, Alia, Siraj
Disembarked atAucklandand greeted by cheerful Dave who brought us to the KEA Campers headquarters. Took more than an hour to go through paperwork and inspect campervan. It's awesome! The one we booked was 6-berth – the biggest they had. Facilities provided in the campervan included: toilet-cum-shower, vacuum cleaner, kitchenette (gas cooker with hood, microwave oven, sink, cutlery and crockery for 6, fridge), drawers to stow away clothes and personal items, electric heater, pillows, blankets, duvets, towels. Extra towels, blankets, pillows can be provided at no extra charge. At night time, the top berth can fit two persons. The two tables can be converted and transformed into two more twin beds. Glad we only took duffel bags as these are collapsible. Otherwise, storage would have been a problem.
Mega mighty machine: The six berth campervan
A house on wheels: Inside the campervan
First stop at Takapuna Holiday Beach. Night was pretty cold as it's prewinter but we quickly got used to the weather. Some camping sites charge per head. Others per family. Went to Food Town (open 24/7) for groceries.
Day 2
Still inAuckland. Found Borders Bookstore, biggest inNew Zealand. It's a challenge to drive a vehicle this size around the city (plus it's manual and neither of us have touched the wheel of one for years) but Ahmad finally succeeded to find a parking space. Encountered a flea market next to Borders. Items sold at bargain prices e.g. puzzles, winter coats, Maori products made from tree barks.
Borders: biggest bookstore
Lunch at Kampung Delights along Albert Street, a Malaysian restaurant patronised by Malaysia Airlines cabin crew and Malaysian students. A choice of rice and two selected dishes for one person cost about NZ8. Quite reasonable. Halal Indian cuisine available downstairs.
Met up with a lovely couple, Roshidah (a chartered accountant) and Richard (an engineer) and their kids, Adam and Aishah. Roshidah bought halal hotdogs and chicken for us. Richard and his team published Auckland for Muslims: A Guide for Islamic Places and Services. Was told they exacted high standards during research to ensure the halal requirement is adhered to, so look out for this guide. The booklet is produced by the Mount Eden Islamic Information Centre. For enquiries, write to enquiry@islamicinfo.org.nz Or, visit them at www.islamicinfo.org.nz.
At the table from left: Alia, Roshidah, Pn Fatimah (standing), me,
Ahmad Fakhri, Adzreen (Pn Fatimah's son)
From left: Ahmad, Adzreen and Richard
Had sumptuous dinner of ciabatta (fluffy bread), sup ekor, macaroni and soup, spicy tuna sandwiches, and veggies washed down with pengat pisang with Richard & Roshidah, and Pn Fatimah & En Aziz and their wonderful families. If you are in Auckland and need a Malaysian place to stay, don't look any further. Kak Timah and En Aziz run Mesra Homestay which offers 6 clean and comfortable double bedrooms. For enquiries, write to mesra_homestay@yahoo.com or visit their site www.mesrahomestay.nz. Heard that Kak Timah makes the tastiest ayam percik in town. Was advised that if you're going North and South, rule of thumb is 1:3 i.e. spend a third of your time in the North and the rest in the South. Had the first taste of cleaning up the campervan. The indicator will tell you how much waste, water etc you have. There're special chemicals that are provided to clean the waste cartridge. It's easy. Daily checklist: Water, Fuel, Oil, Tyres (Air), Waste, Electricity Supply. Water, fuel and gas filled up to the brim. Left Auckland. Took Waikato Expressway for Rotorua. Passed Cambridge town which was really pretty. Passed rolling hills everywhere. Enchanting forest at Mamaku Forest Park.
Day 3
Spent the night at Rotorua Top 10 Holiday Park. It's next to Kahukura Sports & Rugby Club. The Kiwis are much into rugby it seems. Walked to the mud park which has bubbling and steaming hot geysers. Just discovered that the shower has a timer of 8 minutes. Stay any longer and there won't be a single drop of water trickling from the shower unless you have someone who can reset the timer for you. Part of the effort on water and energy conservation, I presume. Found out later that this isn't true of all Top 10's. Some let you use the shower for as long as you like.
Off to the Agrodome for a live demo on sheep shearing and farming. After the demo, a guide, Grant drove us to the farm. On the way he told us that petrol prices in NZ have been raised three times in the past month! He asked: How do you justify the petrol hike? We shrugged. We don't know either… Fed and made friends with llamas, sheep, deer and cattle. The cattle are humongous. They are at least twice the size of their Malaysian cousins! Went to a Kiwifruit organic farm and had some feijoas (a special Kiwi fruit that resembled the guava). Then to the Gondola and luge ride.
Live: demonstration on sheep shearing and farming at the agrodome
At the organic farm
Next stop: Te Puia. Had a Maori welcome at the Maori Village. The traditional Maori welcome is to touch noses. Took a guided tour to the geothermal area. Top spot was where the stones felt warm to the touch. Left Rotorua for Lake Taupo. Stopped at Huka Falls, an hour's drive from Rotorua. A must-see spot, quite unlike anything we've seen. You can go for white-water rafting here if it's not too cold.
Geysers in action complete with pungent smell!
Back on the road and passed by snow-capped mountains. There is a certain allure to these mountains. Air is so clean and fresh. I could feel it in my bones! Stopped at Turangi to check tyres. Passed barren desert at Ruapehu district. Reached Palmerston North at dusk. Ahmad's cousin, Thaharah, a post-graduate student, lives here with her husband Taufiq and three kids. Gave them the four bottles of kicap as requested by Ayah Alang. What a dinner they prepared us! Sambal tumis udang, beef curry, briyani rice with cashew nuts and barbecued chicken, stir-fried mixed veggies, salad, dhall curry, popadum, and mango juice. Brought us to Pak & Save the next day.
Passed Paekakariki when it started drizzling. When the sun shines, it does so with such brilliance. The Kiwis actively promote road safety. Encountered reminders and stark messages along the way e.g. "DRINK & DrIvE", "TIRED DRIVERS DIE", "DRIVER REVIVER", "SEAT BELTS ARE LIKE HUGS. KIDS NEED THEM", "YOU'RE A LONG TIME DEAD. SO WHAT'S THE HURRY?". Reached Wellington in the evening. Some days we spent on the road. Some days we enjoyed the place. As much as possible we avoid traveling at night for safety reasons. Dusk is about 5.30pm so we make it a point to be off by 7am. Tomorrow we will make our way to Te Papa.
Day 5
The GPS we rented (NZ75 rental and NZ450 refundable deposit) helped us to get to the campsite after a bewildering ride through the traffic in Wellington (peak hours!). I like it that Wellington doesn't have too many billboards. As in other cities, buildings are pretty well spread out as land is not an issue here. Besides, population is relatively low and heard that there are more sheep than people in New Zealand.
Day 7
Walked along Aotea/Quay Waterfront. Took the tram ride uphill to the Botanic Garden. We're all wrapped up and saw some people jogging in shorts! Next stop was at Sea & City Museum (entrance is free) where we came across a number of Kiwi students on a class visit. Encountered seagulls. Watched a holographic performance by "little people". Walked to Te Papa, a good educational opportunity for kids. Saw the biggest sea shell fossil there. Te Papa is six stories high but we only managed to see four. Met with Michelle, my husband's colleague who is on posting here. She led us to New World Supermarket for frozen Malaysian paratha. Time to stock up the freezer again! Had dinner at Satay Kajang Restaurant with Michelle.
Day 9
Left Michelle's place at 7am for the InterIslander ferry service at Wellington Harbour. It's good that we have booked early since the ferry service is full especially on long weekends. You can't just go there and purchase a ticket. The ferry is huge and eight-deck high with facilities including lookout deck, playroom for children, nap corners and restaurants. The waters are calm today so it's a pleasant three-hour ride all the way to Picton Harbour in the South Island. Arrived safe and sound at 2.15pm and made our way to the Makana Chocolate Factory at Blenheim.
Choc chef at Blenheim
Saw endless acres of vineyards. On the way to Kaikoura, saw Mt Cook from a distance. Waipapa Beach is simply amazing. Signboard told us to watch out for seals but didn't see any. Encountered many Kiwis here lugging boats and bikes. Seems that Kiwis like to camp quite a lot, which is not surprising seeing that the facilities are available. Passed deer farms just after Cheviot Town. None of the deer has an antler. Saw a couple of seals on the way to Oaru River. Left Kaikoura, which is famous for dolphin and whale watching. You need to rent a boat to do this. Reached Dunedin tired and hungry after dusk after a nine-hour ride. Dunedin is home to Baldwin Street, the steepest street in the world. Driving the campervan through the steep roads gave us the jitters. We wondered if the vehicle would slide backwards at times. Dunedin is also home to Otago University, which has many Asian students. Cadbury factory is also here.
Day 10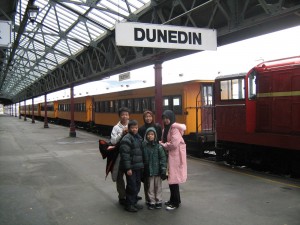 Dunedin railway station
Off to the Railway Station. Thought we could get on the hop-on/hop-off bus but apparently it's not around in winter. Went to theOtagoMuseumDiscovery Centre.
Discovery Centre Otago
Had a terrific lunch at Encik Sabri & Puan Laili's place. The couple took us for a ride to Signal Hill, a lookout post for Dunedin, and Andy Bay. Saw people surfing in the cold. Wouldn't have believed that anyone would surf in the cold it if I hadn't seen it myself. Passed Gore and Clinton towns but no Bush around.
Day 11
Off to Milford Sound. From Te Anau, allow two hours because of the winding road to Milford Sound in Fiordland. Be sure you fill up the fuel as there's limited supply once you left Te Anau. Passed through gushing streams and calm waters of the Eglington River along Alpine Road.
What we saw before entering a tunnel on the way to Milford Sound
Reached Milford Sound just in time for the 1.30 Red Boat Cruise. It's worth the wait! Milford Sound was named as the eighth natural wonder of the world by Rudyard Kipling. Saw two breathtaking rainbows against the backdrop of cascading waterfalls. Fantastic weather despite it being winter. Free coffee/tea on board. Left for Te Anau again. Spent a night at Te Anau, next to the lake, a lovely place to explore. Best Top 10 facilities we've seen so far! Spanking clean bathrooms. It's a pity we didn't manage to see theGlowwormCaves tour that started at about 7pm as we were too tired.
Milford Sound: eighth natural wonder
Milford Sound: A view to behold

Day 12
Left Te Anau for Mossburn on the way to Queenstown. Encountered strong gust of wind near Mossburn. Along Lake Wakatipu, we drove right into a movie crew at Devil's Staircase Lookout, filming, I supposed, a documentary. The water scenes for the movie "The Sea Horse: Legend of The Deep" were shot here. Had brunch of roti canai, sambal udang, curry gravy at Lake Wakatipu in Queenstown. Passed Arrowtown, once famous for the Gold Rush. Avoided the zig-zagging road to the ski area and took an alternative route instead. Crossed Kawarau River.
Stopped at an orchard and bought choc nuts, pistachios and fresh fruits. Reached Puzzling World (owned and ran by the family of Stuart Landsborough) on the way to Wanaka. It's full of mazes, illusions and puzzles if you're into these. Really thrilling and an educational treat. Spent the night at Wanaka and was told it was zero degrees Celsius. Previous night was even colder.
Puzzling World near Wanaka
The Hobbit Effect: Fact or fiction? One of the many illusions at Puzzling World

Day 13
Stopped atLakePukaki, the bluest waters I've seen with the majestic Mt Cook as backdrop.
Breathtaking: Bluest waters at Lake Pukaki
ReachedChristchurch at almost dusk. Warm welcome by En Khairuddin (postgraduate student) and Pn Ita. Learnt that rubbish is only collected once a week here to discipline people to recycle as much as possible. Wish this is done inMalaysia. Spent a night at their house. Feted to a delicious dinner of sambal tumis and mackerel with soy sauce! Best sambal tumis ikan bilis I've had. Lovely family. Went to the International Antarctic Centre for a little dose of snow. You can experience the Antarctic Storm (starting at -8C), watch penguins at feeding time and go for the Hagglund Ride. The Hagglund is genuine, an amphibious vehicle used in the Antartic. It's a 15-minute ride which takes you through steep mounds, deep crevasses and go slow in deep water. Thrilling for some but one ride was enough to make me feel sick because of the sudden drops and climbs. A bit like the roller coaster.
The chilling zone: Experience the Antartic snowstorm at -25 degrees
Great dinner with Ita & En Khairuddin again! Evening: Time to wrap up our visit and start packing.
Day 14
Took an early flight from Christchurch to Auckland. Had the most scrumptious blueberry muffin onboard. Goodbye New Zealand!
BONUS NOTES:
New Zealand is by far the country with the most stunning sights and the cleanest cities (even on Sundays when the cleaners are not around) I've ever seen. I've done quite a bit of traveling myself over the years and I must say NZ topped the list. The campervan offers the ultimate flexibility and more fun (my personal opinion of course) as you don't have to lug bags in and out of hotels or make prior arrangements with cabs to get to your next destination. It's an excellent choice if you want to fully engage with nature, which was what we had in mind in the first place. It's more comfortable for passengers since there is more leg room. One table could stay intact while vehicle is in motion so kids could read/play board games while you're on the move. It costs less than staying in hotels. Both Ahmad Fakhri and I are used to traveling since our student days so exploring a foreign country on our own is not something new to us. Plus you could stop at one of the many tranquil towns and scenic spots for a break, heat up some food and have a meal or nap anytime you wish. This helps especially when you cover many hours of driving a day.
You stand a good chance to witness firsthand the picture perfect and captivating sunrise if you're up before 8am. It's crucial that you have ample rest the night before so you are alert the next day. This is especially true for the driver as you'll need extra time to cover long distance. The campervan has a 90km/hr speed limit. The Kiwis are strict on traffic rules. There's a high penalty for offences and if you are slapped with a fine, you'll be left at least NZ200 poorer. Some traffic rules differ a bit from what we have in Malaysia e.g. in terms of right-of-way, so check this out before you start driving. Check if the campervan you're booking is automatic or manual. Ours was manual, which can be a bit unnerving if you haven't touched one in years. Also, some go on diesel and others on petrol. The campervan is very much a Do-It-Yourself thing, so you need to be a hands-on person with a good dose of the adventurous streak to boot.
On arrival, we registered as members of Top 10 Camping Sites. Most of the time we stayed at Top Ten as they provided good facilities e.g. toilets and showers, kitchen (if you don't want to cook in the campervan) and coin-operated laundry machines.
You do not need to bring too many clothes. It's cold, you don't sweat much and don't have to bathe as frequently as in Malaysia. We brought four pairs of clothes each and even this was too much. Half of these were never worn.
I brought my laptop along but only managed to use it once. A safe is provided in the campervan to store valuables. The van has a built-in television set and DVD console but we hardly used these. We were just too engrossed with the surroundings.
If you are highly sensitive to the cold or have a child who is, it is better to be over prepared with long johns, sweaters, winter coats and thermal socks as it could get very chilly especially at night. Also, these days there are special waterproof trousers that will keep you extra warm. Got them from a shop at Jalan Loke Yew.
A big heartfelt THANK YOU to Richard and Roshidah, Encik Aziz and Kak Fatimah at Auckland, Thaharah and Taufiq (Palmerston North), Michelle (Wellington), Encik Sabri and Puan Laili (Dunedin), Encik Khairuddin and Ita (Christchurch) and all the Kiwis and Malaysians who welcome us with such warmth, generosity and hospitality and made our visit all the more memorable. Thank you, too, to the man at a certain ticketing counter who issued free tickets to our children. It's a pity I can't mention his name here; it might cost him his job.
Discuss your thoughts below!
comments.
[banner group='ads-300x300']